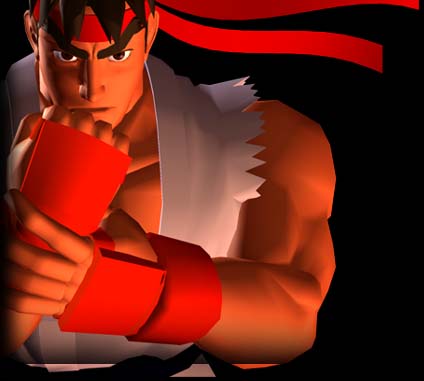 My favorite he is fast and strong. He agile and has fast and strong moves. He has wicked combos that are easy to perform.

I dont think he is in street fighter 3 but he is an important character. People say he suck and all that but I find him realy cool.
Apparently, there's a darker side of Ryu few has faced...
The true story of how the dark side of Ryu cease to exist as of now. Some say he had some of the demonic rage within him that his rival Akuma had, but he never realized he had the powers until he fought Akuma. Others said that he was shot during a fight with Adon and this left an Evil rage within him. Another rumour was that M. Bison unlocked the hidden power Ryu had with his "Psycho Power". Whatever the true story is, there is one thing for certain: the evil side of Ryu is one side his opponents do not want to fight against. (Then again, his opponents should worry about normal Ryu as well!) Evil Ryu has the regular special moves of his good side PLUS he has a few "evil" moves, like the Teleport and the Raging Demon.

I Love this character he is like evil ruy he is strong he has more moves than ruy but even though I prefer ruy.

MOVE LIST
Street Fighter III: New Generation
>IBUKI: Kunai Dagger: Jump,D,DF,F + P
Raida: D,DB,B + P
Kubiori: D,DF,F + K
Hien: B,D,DB + K
Kezekiri: F,D,DF + K
Tsumuji: D,DB,B + K,K
Super Arts:
KASUMI: Jump,D,DF,F,D,DF,F + P
YOROI DOUSHI: D,DF,F,D,DF,F + P
KIRIN KYAKU: D,DF,F,D,DF,F + K

NECRO:
Electric Blaster: F,D,DF + tap P
Spinning Punch: B,DB,D,DF,F + P
Flying Viper: D,DB,B + P
Snake Fang: B,DB,D,DF,F + K
Super Arts:
SUPER ELECTRIC STORM: D,DF,F,D,DF,F + K,tap K
SLAM DANCE: D,DF,F,D,DF,F + P
SUPER SPARK: D,DF,F,D,DF,F + P

SEAN:
Sean Tackle: D,DF,F + hold P
Tornado Kick: D,DB,B + K
Ryubi-Kyaku: D,DF,F + K
Dragon Smash: F,D,DF + P
Roll: D,DB,B + P
Super Arts:
HADO-BURST (I): D,DF,F,D,DF,F + P
SHORYU-CANNON (II): D,DF,F,D,DF,F + P, tap P
HYPER-TORNADO (III): D,DF,F,D,DF,F + P

ORO:
Nichirinsho: Charge B,F + P
Oniyanma: Charge D,U + P
Niouriki: F,DF,D,DB,B + P
Jinchuwatari: D,DF,F + K (air)
Super Arts:
KISHIN-RIKI (I): D,DF,F,D,DF,F + P,P (close)
YAGYOU-DAMA (II): D,DF,F,D,DF,F + P
TENGU-STONE (III): D,DF,F,D,DF,F + P

ELENA:
Scratch Wheel: F,D,DF + K
Rhino Horn: B,DB,D,DF,F + K
Mallet Smash: F,DF,D,DB,B + P
Super Arts:
HEALING: D,DF,F,D,DF,F + P
SPINNING BEAT: D,DF,F,D,DF,F + K
RUSH SUPER: D,DF,F,D,DF,F + K

RYU:
Fireball: D,DF,F + P
Hurricane Kick: D,DB,B + K
Dragon Punch: F,D,DF + P
Joudan-Sokutou-Geri: B,DB,D,DF,F + K
Super Arts:
DENJIN HADO-KEN: D,DF,F,D,DF,F + hold P
SHINKUU HADO-KEN: SHIN-SHORYU-KEN: D,DF,F,D,DF,F + P

DUDLEY:
Jet Uppercut: F,D,DF + P
Machine Gun Blow: B,DB,D,DF,F + P
Ducking Straight: B,DB,D,DF,F + K, P
Ducking Uppercut: B,DB,D,DF,F + K, K
Cross Counter: F,DF,D,DB,B + P
Super Arts:
ROCKET UPPER (I): D,DF,F,D,DF,F + P
ROLLING THUNDER (II): D,DF,F,D,DF,F + P,tap P
CORKSCREW BLOW (III): D,DF,F,D,DF,F + P

ALEX:
Flash Chop: D,DF,F + P
Power Bomb: F,DF,D,DB,B + P
Air Stampede: Charge D,U + K
Knee Strike: F,D,DF + K
Super Arts:
HYPER BOMB (I): 360 + P
BOOMERANG RAID (II): D,DF,F,D,DF,F + P
STUN-GUN HEADBUTT (III): D,DF,F,D,DF,F + P

YUN/YANG:
Kobokushi: D,DB,B + P
Zesshou-Hohou: D,DF,F + P
Senkyu-Tai: D,DF,F + K
Shoulder Grab: F,DF,D,DB,B + K
Super Arts:
SUPER RISING KICK: D,DF,F,D,DF,F + K
SUPER RUSH: D,DF,F,D,DF,F + P, tap P
YUN & FRIENDS (III): D,DF,F,D,DF,F + P

KEN:
Fireball:D,DF,F + P
Hurricane Kick:D,DB,B + K
Dragon Punch:F,D,DF + P
Super Arts:
SHORYU-REPPA (I): D,DF,F,D,DF + P
SHIN-SHORYUKEN (II): D,DF,F,D,DF + K,tap K
ULTIMATE KICK COMBO (III): D,DF,F,D,DF,F + K,K

UNIVERSAL MOVES:
Forward Dash: F,F
Back Dash: B,B
High Jump: D, U
Long Jump: DB, UF
Overhead: D,D,P

---
Credits:
Tom Cannon -- many, many moves, almost all of them.
Khris Gaines -- some moves.


UNDER CONSTRUCTION